We are located in Madison County, in the area known as Wolf Laurel in Mars Hill, North Carolina.
Madison County was created in 1851 from Buncombe and Yancey counties. The county, which was named after President James Madison, has had a long and colorful political history that dates to its creation. It earned the nickname "bloody Madison" for the fights over political ideology that became polarized during the Civil War.
Marshall is the county seat of rural Madison County, which is now home to the Wolf Laurel Ski resort and Mars Hill College. The county also boasts some of the most beautiful mountain scenery, and the Appalachian Trail cuts through Madison County.
Today, the county is becoming more and more of a bedroom community to Buncombe County, as nearly half of Madison's residents commute to Buncombe. One of the biggest highway construction projects in Western North Carolina's recent history is underway, as state-contracted builders finish the construction of 10 new miles of Interstate 26.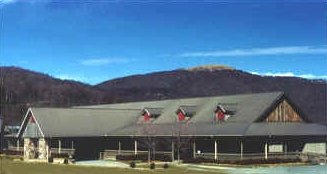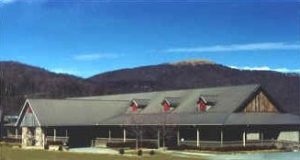 Wolf Laurel offers year-round enjoyment! Wolf Laurel Resort was founded in 1965. It began as a 5,000-acre golf & ski resort, located 27 miles North of Asheville, NC, with elevations ranging from 3700 to 5600 feet.
The golf course, designed by William Lewis, was finished in 1970. It is a challenging 18-hole course with some of the most breathtaking and dramatic mountain vistas in the country. You will find fairways that drop more than 100 feet from tee to green and holes that wrap themselves around the sides of mountains.
Our area is always a haven for snow lovers as Wolf Laurel Ski Slopes operate within the resort boundaries. It has 54 acres of skiable terrain. Fourteen challenging slopes are offered, featuring varying degrees of difficulty to accommodate the novice skier or the most experienced expert. The longest run is approximately one mile, and the overall vertical drop is 700 feet!
Other fun activities within resort boundaries include swimming, tennis, horseback riding, and fishing.
If you like hiking and biking you'll love Wolf Laurel Resort as it is host to a section of the Appalachian Trail that runs across the top of Big Bald Mountain. Several acres surrounding the AT have been sold to the National Forest to protect this pristine treasure. Hiking and biking is a favorite pastime here.
Wolf Mountain Real Estate and Rentals offers the best cabin rentals, vacation rentals, mountain chalets and condominiums in the Wolf Laurel Resort in Western North Carolina near Asheville, Hendersonville and Mars Hill, North Carolina and Jonesborough, Tennessee.
You can view all of our rental listings or search by specific amenities, such as hot tubs etc. Simply click on your choice to find just what you're looking for!
You will find our area a refreshing and exciting destination for your next family vacation.
Surrounded on three sides by national forest, the 5,000-acre resort community is only a short drive 27 miles north of Asheville on Interstate 26 and close to Skiing at Wolf Laurel Ski Resort, golf, whitewater rafting, hiking trails, biking and more!
You'll feel transported to a time when life was less complicated, yet Wolf Laurel provides all the conveniences of a quality vacation. Wolf Laurel is truly a resort for all seasons. Resort activities include golf, tennis, croquet, swimming, snow skiing, horseback riding, mountain biking and hiking the Appalachian Trail.
Wolf Laurel Resort is the best place to spend quality time with family and friends. We look forward to seeing you soon!